Bakery Bites - Berry Biscuits
Order in the next to get it by
3 Great reasons to buy from us:

100% Satisfaction Guaranteed

Free Shipping on All Orders over $50 to the United States

Smooth Transactions
Your pup will love our oven-baked gourmet dog treats!
  Click Here To See Ingredients
Ingredients:
• Garbanzo Bean Flour
• Apple Juice
• Eggs
• Coconut Oil
• Mixed Tocopherols (Vitamin E) as a natural preservative
 
Berry Biscuits:
Blueberry Antioxidant Flavor: Blueberries and Natural Blueberry Flavor
Cranberry Antioxidant Flavor: Cranberries and Natural Cranberry Flavor
Canine Cookies:
Banana Carob Chip Flavor: Carob Chips and Natural Banana Flavor
Peanut Butter Flavor: Ground Peanuts
Minty Morsels:
Mint Flavor: Enzyme Premix and Natural Spearmint Oil
Ginger Flavor: Enzyme Premix and Ground Ginger
Enzyme Premix (Lysozyme, Catalase, Papain, Amyloglucosidase, Peptzyme SP, Lactorerrin)
*NO Artificial Preservatives, By Products or Chemical Additives
Finally, a grain free all natural dog treat that your dogs will love, and that you can feel great about giving them!
Quality and Nutrition you can TRUST!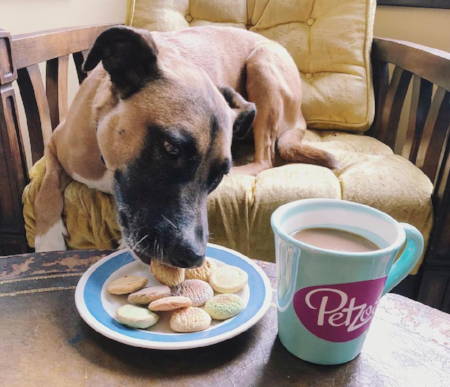 • GRAIN FREE

–

A lot of dogs have sensitivities to grains. Their wild ancestors didn't eat them in the amounts found in products today, so you definitely want to skip them.
 
• LOW CALORIE

–

Treats are meant to be just that. TREATS. Some treats can have as many calories as their meals! The lower the calories, the more you can reward your good boy/girl! Only 10 calories per treat!
 
• BAKED FRESH

–

Do you like stale cookies? Neither does your dog. If you want them to sit, shake, and roll, they want the fresh stuff!
 
• NO BAD STUFF

–

Free of Artificial Ingredients, By-Products, and Chemical Additives and PACKED with beneficial nutrients - Catching an interesting trend? Our furry family members have similar needs to our own! Ditch anything that's artificial and make sure your dog's treat is ADDING to their health.
Delicious and Nutritious!
• 100% NATURAL HEALTHY INGREDIENTS – No chemical additives, no added salt, no glycerin, no waxes and no hydrogenated oils.
 
• GLUTEN FREE / GRAIN FREE – NO Wheat, Corn, or Soy! Our hypoallergenic dog treats are a great alternative for pets with grain sensitivities or food allergies!
 
• 2 DELICIOUS FLAVORS IN ONE PACKAGE – Because pets enjoy variety too! Our Berry Biscuits contain two flavors: Cranberry & Blueberry. A great antioxidant blend to support improved digestion & a healthy immune system.
 
• DOG TREATS MADE IN USA ONLY / 100% GUARANTEE – Baked fresh daily with locally and responsibly sourced premium ingredients. Packed in a sealed inner bag and then placed in a re-sealable 10oz pouch for added freshness.
 
• WHEN YOU PURCHASE TREATS, WE DONATE TREATS! – With our Treats for Treats program, when you purchase treats for your pet, you're helping other pets in need! Spread the love with our all natural dog treats!